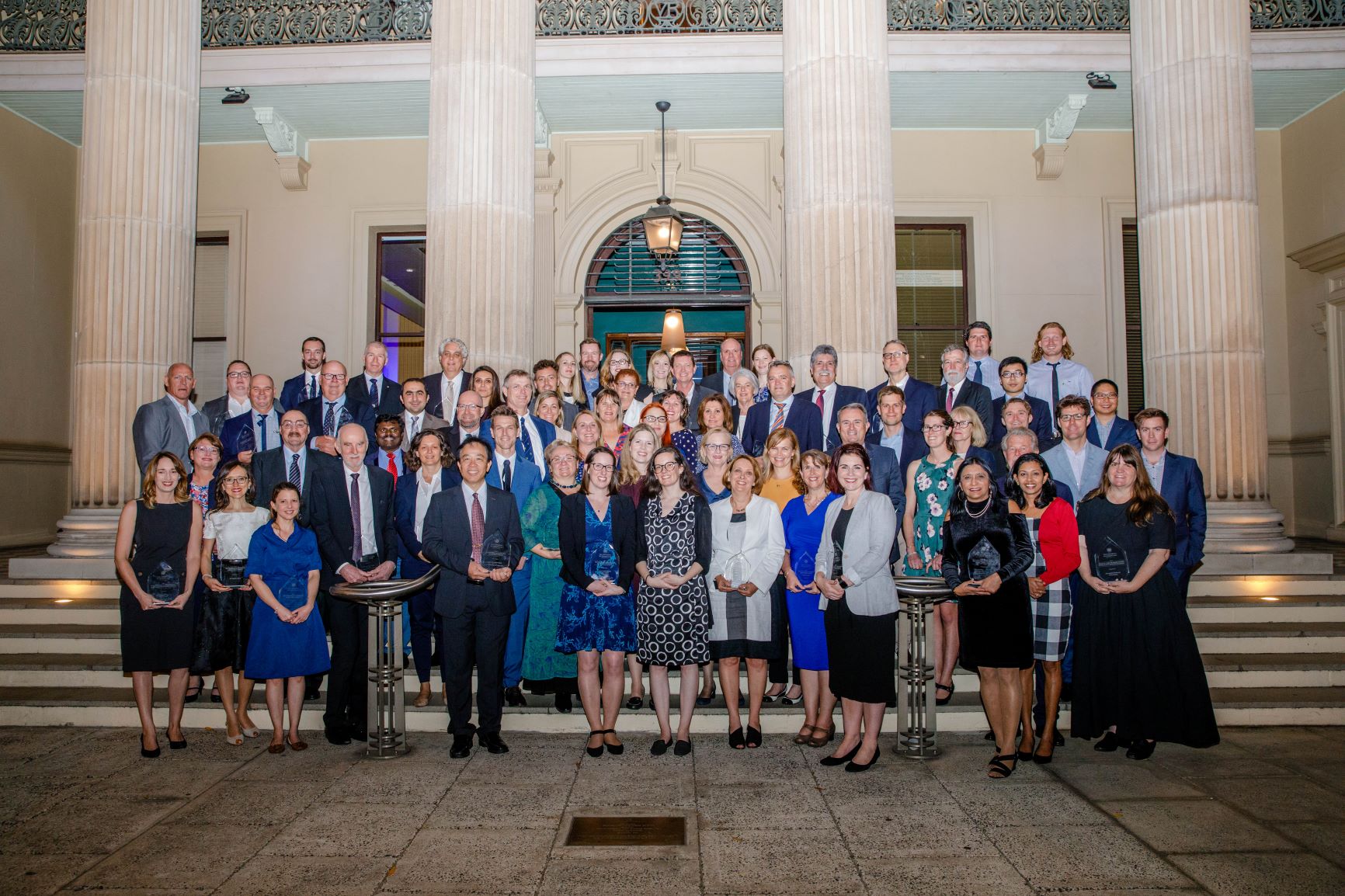 Research that has improved lives and transformed societies from UQ's Faculty of Health and Behavioural Sciences was celebrated at UQ's 2019 Research Week awards.
Among the record number of UQ researchers and research supervisors acknowledged the Faculty scooped four awards for outstanding industry-UQ collaborations and excellence in research higher degree supervision.
Faculty Executive Dean Professor Bruce Abernethy, congratulated the researchers and their collaborators on their exceptional work.
"We are very proud of the high calibre of researchers we have across the Faculty who contribute to helping people live healthier lives every day," Professor Abernethy said.
"The research projects awarded showcase the span of health areas and partnerships the Faculty has with industry and government, both in Australia and internationally.
"The innovative research produced by these partnerships benefit communities across the globe with the latest advances in health research.
"It is also great to see Associate Professor Irina Vetter (joint appointment with the UQ School of Pharmacy and the Institute for Molecular Bioscience) awarded for her exceptional performance in supervising, mentoring and training Higher Degree Research candidates."
2019 Partners in Research Excellence Awards
Leading Healthy Lives
Professor Barbara Masser, from the UQ School of Psychology, with Australian Red Cross Blood Service for her project 'Recruiting and retaining the donors who give the gift of live' - Winner
In Australia, the research partnership between Professor Masser and the Blood Service has produced research outcomes that improve the efficiency and effectiveness of how the Blood Service engages with their (potential) donors.
This has resulted in improvements to donor recruitment, the donor experience, and thus donor retention. In short, this partnership has benefitted Australia and improved the lives of many by helping to ensure the sufficiency of the blood supply. Internationally, this research partnership has had a similar impact.
Professor Louise Hickson, from the UQ School of Health and Rehabilitation Sciences, with Sonova for her project 'Inter-professional collaborations in health and behavioural sciences to improve the lives and adults with hearing impairment' - Commendation
The research collaborations between UQ and Sonova (a Swiss based global hearing device company) have led to greater uptake of new technologies for individuals with hearing impairment, and improved audiological service delivery, in turn resulting in improved quality of life for those with this highly prevalent chronic condition. Key collaborators from Sonova are Adjunct Senior Research Fellow Dr Barbra Timmer and Adjunct Professor Stefan Launer.
Transforming societies
Associate Professor Sean Tweedy, from the UQ School of Human Movement and Nutrition Sciences, with The International Paralympic Committee (IPC) for his project 'The UQ-IPC Classification Research and Development Partnership- Physical Impairments'- Commendation
The research program developed by Drs Sean Tweedy, Mark Connick and Emma Beckman achieves dual goals. First, the research directly addresses the industry partner's business needs by developing evidence-based methods for classifying Para athletes. Secondly, the research generates original research outputs that provide the scientific foundations underpinning the relationship between health conditions such as spinal cord injury and cerebral palsy and activities such as wheelchair propulsion and running.
UQ Research Week 2019
A full list of 2019 UQ Research Week activities including the Research Capabilities Showcase, an Aboriginal and Torres Strait Islander Research Forum, the Three Minute Thesis (3MT) final and library events can be found here.
As part of Research Week, the Faculty celebrated the incredible work being undertaken by early and mid-career researchers. You can take a glimpse into the current projects and career highlights of 22 early and mid-career researchers from the Faculty here.