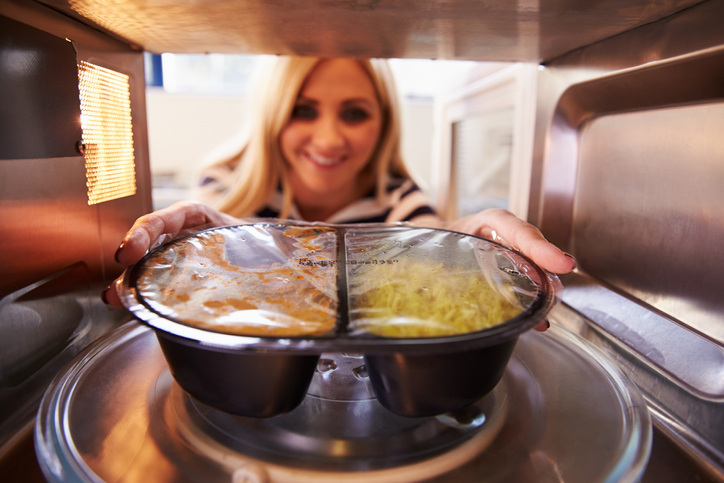 Australians are progressively spending more time behind desks, in cars, on public transport and sitting in front of the TV.
These habits are a consequence of our modern, fast-paced lives and are causing substantial shifts in consumer eating preferences. Long gone are the days of three traditional home-cooked meals; instead out time-poor lifestyles have driven us towards the pursuit of ultimate convenience. Welcome to the re-heating revolution and the birth of the ready-made meal.
Ready-made meals are celebrated as the harbinger of convenience; replacing a home-cooked main meal with simplistic food in user-friendly packaging, and requiring minimal preparation time, and with few or no added ingredients. And with supermarkets stocking an ever-increasing variety of cuisines and catering to multiple dietary requirements, it comes as no surprise that the world's ready-made meal industry is growing at 3.6 per cent annually.
This prompts the question: can we replace home cooked meals with ready-made alternatives at no expense to our health? Before you decide you pick up a frozen ready-made meal at the supermarkets, there are a few things to consider.
A major concern with these meals is their nutritional composition. Unfortunately, most ready-made meals are high in energy, saturated fats and sodium and are often low in fibre and micronutrients. As these meals tend to be energy-dense they may be contributing to the obesity crisis that Australia currently faces. In addition, their low vegetable content means people are even less likely to meet recommendations for vegetable intake, thereby increasing their risk of chronic disease.
Another concern is how these foods are cooked. Thermal processing, using higher temperatures and long cooking times can cause a significant reduction in vitamin C, thiamine (B1) and folic acid as well as several antioxidants found naturally in fruits, vegetables and herbs. Alongside the already low vegetable content present in these foods, thermal processing is likely to lead to further reduction in nutrient density of ready-made meals.
Based on the nutritional composition and negative health consequences it would seem that we should never replace our home-cooked meals with a ready-made version. However, this isn't the case, there is still a place for ready-made meals if you choose carefully.
The nutrition information panel can be a confusing bunch of numbers but here a few key things to look for (a healthy meal choice will meet some of these recommendations but not all):
· 300-500 calories (1250-2100kJ)
· 10-18 grams of total fat
· Less than 4 grams of saturated fat
· 120mg/100g sodium or less than 600mg total sodium
· 10-20 grams of protein
· 5+ grams of fibre
· A few good brands to try: Lean Cuisine & Healthy Choice
It's a lot to remember but if you create a note in your phone it's a good guide for picking healthy ready-made meals. You may find that these meals are too small or still lack enough vegetables, so a great way to bump up meal size and nutrient density is to buy some frozen vegetables to heat up with the meal or add some drained canned beans.
Being able to cook a healthy home-cooked meal is an essential skill to have but we all have moments in our lives when we find ourselves lacking the time to prepare a healthy meal or maybe need some structured help to lose weight. Ready-made meals can be a viable solution but will require some research and consideration when checking those nutrition labels.
---

AUTHOR: Caitlin Hall graduated from The University of Queensland with a Master of Dietetics Studies as Valedictorian (2017). During her studies she received the Dietitian Association of Australia's (DAA) Most Outstanding Dietetic Student Award (2017) and the Dean's Commendation for Academic Excellence (2016).