We caught up with 3MT Faculty Final winner, Emma Schimke from the School of Health and Rehabilitation Sciences, ahead of the UQ Final on Wednesday.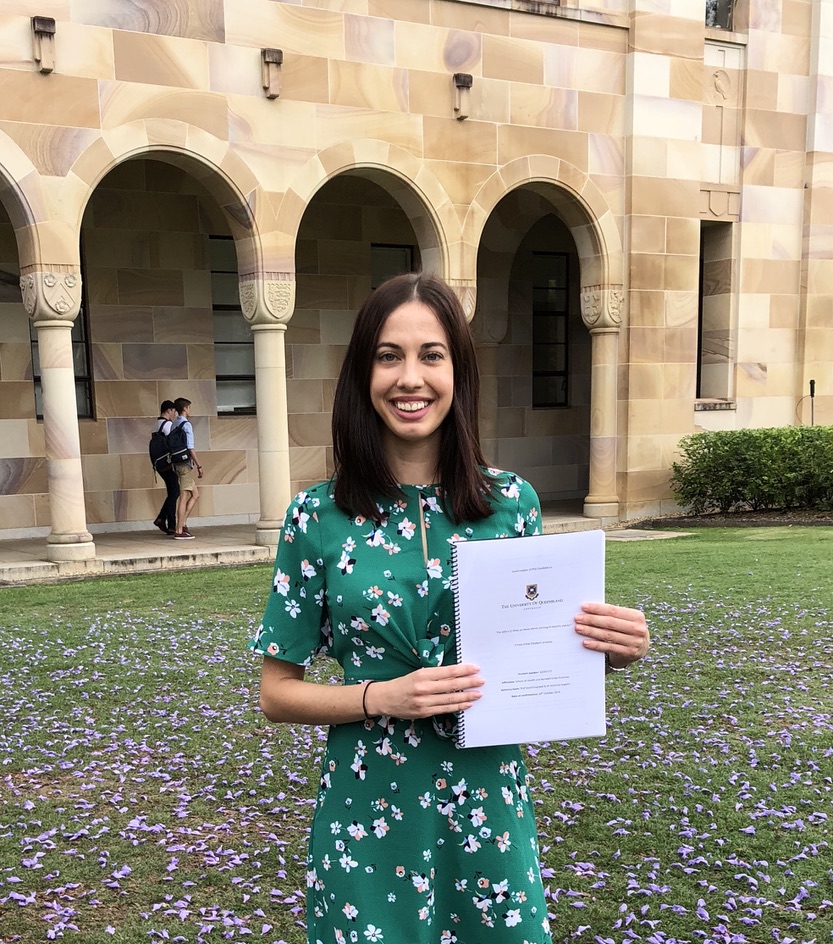 Tell us how you came to apply for 3MT and what the process was like.
It's been a dream of mine to participate in the 3MT competition ever since I watched the Asia-Pacific Final back in 2017.
I was in awe of the way the competitors communicated their specific field of research in such an interesting and accessible format. I vowed I would enter the competition in the final year of my PhD, and here I am!
Discussing the three years of my thesis in three minutes has been a challenge I have thoroughly enjoyed! The process was a little different from what I had anticipated, given the shift to the virtual competition format this year. Presenting to a video camera rather than a live audience has had unique challenges, but it's been a valuable skill to develop particularly given that video abstracts are becoming a more common way for researchers to communicate their research in an accessible format.
What stage is your research at and what's next?
I'm in the final year of my PhD, so I'm currently focusing on analysing the data I have collected, and am interpreting and writing up the findings. As for what's next, there are many pathways that I am currently considering.
As a researcher, I'm keen to explore the impact of sleep on word learning in clinical populations, such as children or adults with language disorders. I am also very passionate about the work I do as a speech pathologist with children with communication difficulties and their families, so I'm interested in continuing to work as a clinician in some capacity post-PhD.
I am also interested in pursuing a teaching role, as I have thoroughly enjoyed working with university students as a tutor and clinical educator. There are so many possibilities!
What has been the most interesting finding so far?
My thesis is focused on examining the influence of sleep on novel word learning in healthy young and older adults. When looking at the results from my study, it was very exciting to find out that overnight sleep did indeed benefit memory retention for new words compared to staying awake during the day.
Sleep is sometimes thought of as a luxury, but it is necessary for so many functions including memory consolidation.
Should you win, what would it mean for your research?
Participating in 3MT has already been so beneficial for my research, as it's provided a key way to communicate my thesis to the wider community in an interesting format using non-specialist language.
Winning the UQ Final would be incredible because it would mean that my research could reach an even wider audience at the Asia-Pacific Final with the competition being viewed Australia-wide and internationally!
What would you like to see change in the world as a result of your research?
People are required to learn new words across the lifespan, from infancy through to older adulthood. An increased understanding of the impact of sleep on word learning could help to identify the best circumstances for people to learn new words.  
I also hope that my research findings could benefit clinical populations. An increased understanding of whether new word learning can be boosted by sleep could help speech pathologists determine the optimal conditions for people to learn new words and re-learn familiar words. This could potentially lead to new treatment approaches and improved outcomes for people with language difficulties due to various conditions, such as stroke.
Who inspires you?
I am inspired by many different people. My PhD advisors Professor David Copland and Associate Professor Tony Angwin inspire me, as they are both very knowledgeable and passionate about the research they do. They have been very supportive of me entering the 3MT competition, and I am so grateful for their encouragement and guidance over the past few years.
I am also inspired by many other people who are doing amazing things to contribute to the speech pathology profession and ultimately help people with communication disorders including clinicians, clinical educators, lecturers, and researchers.
Finally, the children and families that I have worked with have inspired me to pursue the research I do. Working clinically increased my desire to give back to the speech pathology profession and find answers to important questions. I am so grateful for the fulfilling work I am able to do both as a speech pathologist and a researcher.
Emma will compete against eight other finalists in the Virtual UQ 3MT Final Showcase on Wednesday 16 September. Register online now.