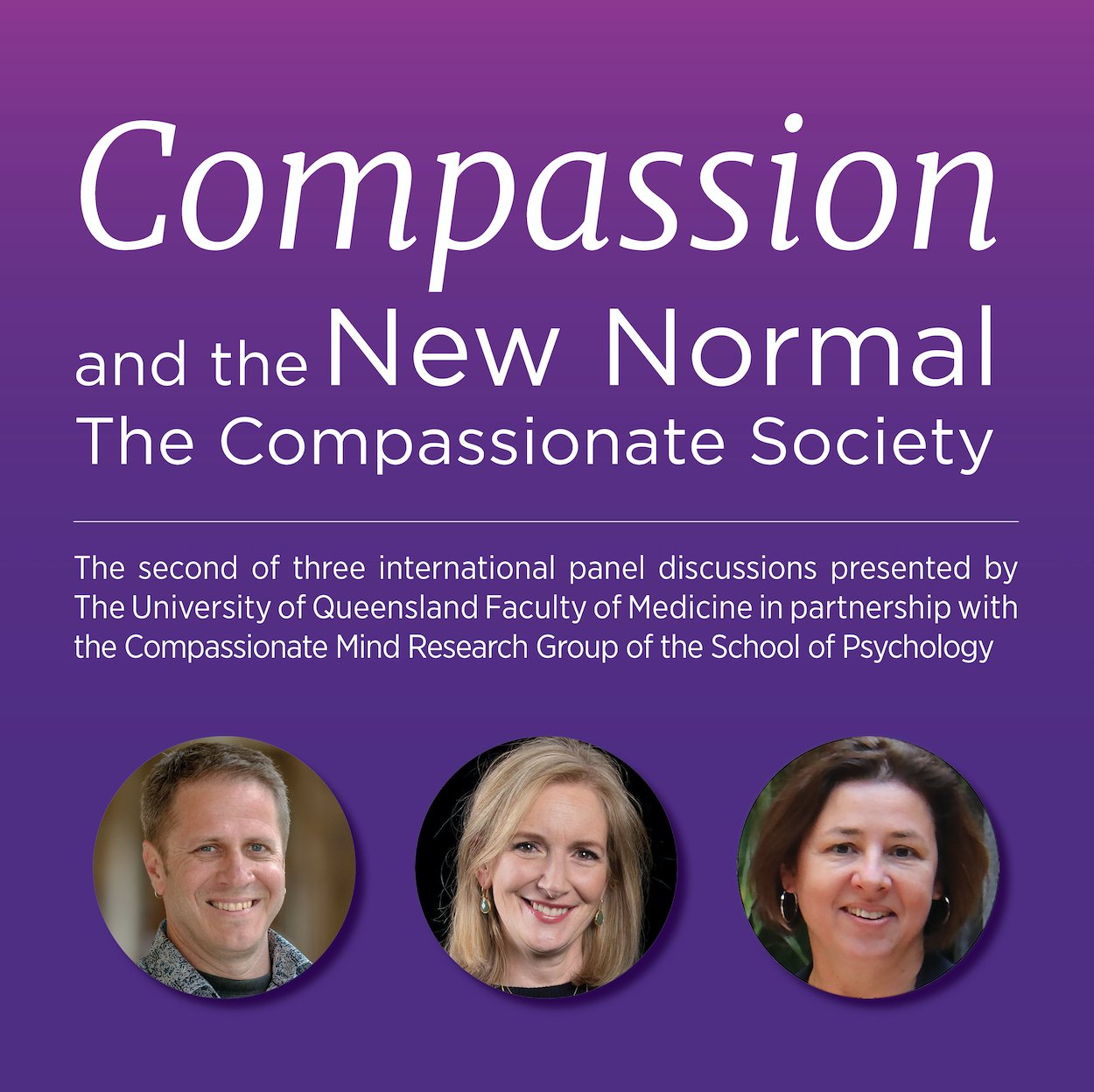 In the new normal that will follow the current pandemic, can compassion improve how we live in society and care for the planet?
University of Queensland researchers are joined by a panel of international experts on compassion to discuss how we can make a compassionate difference in a series of online discussions.
'Compassion and the New Normal', hosted by the award-winning ABC and SBS journalist Sana Qadar, is a free three-part series developed by UQ's Faculty of Medicine in partnership with UQ's School of Psychology Compassionate Mind Research Group.
Setting the context of the 'new normal', Faculty of Medicine expert Professor Alasdair Foster said that 2020 began in Australia with drought and bushfire, and rapidly segued into the global Covid-19 pandemic.
"Meanwhile, movements such as #MeToo, Black Lives Matter and Extinction Rebellion highlight the most basic flaws in our sociopolitical systems, and a tiny minority rich elite continue to extract more and more wealth to themselves, forcing increasing numbers into insecurity and poverty," Dr Foster said.
"As we look to a future beyond the pandemic, there is much need for the compassion necessary to change the way we live and reimagine the structures by which we share the planet."
Compassionate Mind Research Group Co-Director Dr James Kirby said the event was an opportunity for people to feel inspired and empowered with ideas to make our society more compassionate.
"So many of us want to act compassionately to help make our communities and society kinder, fairer and more humane, but can struggle knowing what might be helpful," Dr Kirby said.
"These panel discussions will provide ideas on how you might be able to take your energy to make a compassionate difference."
Panellists include the celebrated philosopher, Peter Singer; the co-founder of Compassion in Politics, Jennifer Nadel; the CEO of Youngcare, Anthony Ryan; author of 'How Compassion Made Us Human', Penny Spikins; and the president of the Compassionate Mind Foundation, Paul Gilbert. 
Find out more about these free events and register for Panel Two: The Compassionate Society or Panel Three: Global Compassion here.
Media: Dr James Kirby, j.kirby@psy.uq.edu.au, +61 7 3365 6802, @JamesNKirby; Kirsten O'Leary, UQ Communications, k.oleary@uq.edu.au, +61 412307594, @UQhealth.