Brain Awareness Week (11-17 March 2019) is the global campaign to increase public awareness of the progress and benefits of brain research.
Here is a snapshot of just some of the brain research taking place within the UQ Faculty of Health and Behavioural Sciences.
The CarFreeMe program
Educating people with dementia, and their families, on how to stay active in the community without a car is the focus of UQ's CarFreeMe program. It helps them to remain engaged in their communities, as well as providing support for the emotional and practical challenges that come with this life transition. The team that developed the CarFreeMe program consists of researchers from UQ's School of Psychology, School of Health and Rehabilitation Sciences and Faculty of Medicine.
---
Cognitive training and brain stimulation
Brain training and stimulation in older adults may be the key to tackling cognitive decline and dementia. Researchers in the UQ School of Psychology are recruiting 200 healthy adults, aged 60 to 75, to take part in a study using a form of non-invasive brain stimulation called transcranial direct current stimulation (tDCS). They combine the tDCS with a computerised behavioural training program where people try to improve their decision-making reaction times, and are tested on a range of other tasks that measure memory and the ability to stay task-focussed.
---
Exercise is good for the brain, but what type is best?
Exercise may help improve brain health and prevent dementia, but what form of exercise is the most effective? That question is the focus of a study in The University of Queensland's School of Human Movement and Nutrition Sciences.
---
Sleeping for science
Researchers in the UQ School of Health and Rehabilitation Sciences are studying the effect of sleep on learning. Increased knowledge of whether learning words can be aided by sleep can help speech pathologists determine the best circumstances for adults to learn new words and re-learn familiar words after brain injury.
---
Improving diagnosis and treatment of anxiety in Parkinson's disease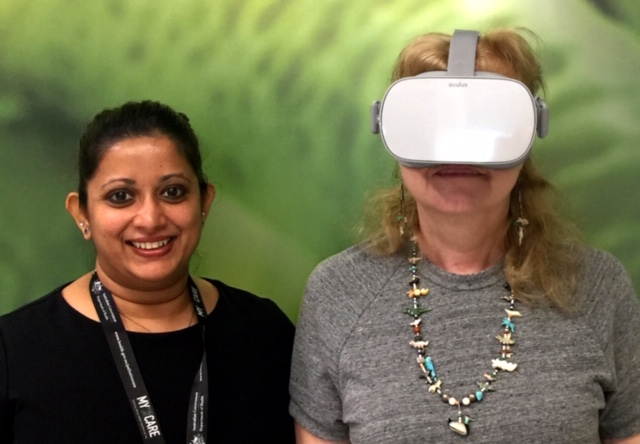 Anxiety is a common complaint of persons living with Parkinson's disease. Anxiety is often under-diagnosed and under-treated in this group, particularly in older adults. Researchers in the UQ School of Psychology and the UQ Centre for Clinical Research are using innovative treatment with state-of-the-art technology to provide effective therapies for patients trying to better cope with their anxiety. Their novel approach incorporates virtual reality (VR) immersive environments in the psychological treatments. VR immersive exposure therapies bypass the need for patients to form effortful mental representations of the anxiety triggers, as required in conventional therapies, which is advantageous for patients with cognitive impairment. VR therapies placed in web-based applications can also increase access to patients with mobility difficulties and those living in rural and remote communities.
---
Helping people living with dementia treat hearing loss
Practitioners and caregivers for aged care residents living with dementia and hearing loss will soon be able to draw on a free resource, developed by researchers in the UQ's School of Psychology and School of Health and Rehabilitation Sciences.
---
Early diagnosis and intervention for dementia
Innovative neurocognitive methods to achieve earlier diagnosis and develop tailored interventions to maintain function is the focus of an NHMRC Boosting Dementia Research Leadership Fellowship in the UQ School of Psychology.
---
How visual predictions affect neural coding
Researchers in the UQ School of Psychology and the Queensland Brain Institute have been awarded a National Health and Medical Research Council (NHMRC) grant—$709,254 across 3 years—to investigate how visual predictions affect neural coding, from whole brain systems to single neurons.