To address the 2019 theme "creativity' for UQ Teaching and Learning Week we highlighted innovative teachers who enhance student learning in UQ's Faculty of Health and Behavioural Sciences.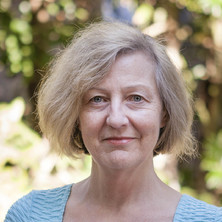 1. What kind of innovative teaching and learning practices do you incorporate?
I incorporate creative practices in my social work teaching to engage students in creative and collaborative problem solving processes, reflective practice and critical thinking which reconstructs what they know in new ways.
These learning experiences build skills and capacities that empower them as learners and future professionals to enact participatory and creative social change practices as social workers with individuals, groups and communities. I use creative media and activities in my teaching such as photographs, online free form technologies, conversation cafés, powerful ('wicked') questions such as 'how can we... what's possible when... what would it take...', art, theatre based on 'Theatre of the Oppressed' methodology, songs/music and 'walking conversations'. For example, one student group undertook the historic reconciliation walk to highlight oppression (defying boundaries walk from Boundary Street in Spring Hill to Boundary Street in West End that marks the former borders enforced by policies of exclusion that existed until 1967).
2. How do you hope to influence the student experience at UQ?
In all the above ways to enhance student creativity and joy of learning!
3. What do you enjoy about teaching students?
My favourite quote is 'When we feel safe, we can trust our growing edge more fully' (Daloz, 1986, p. 131). I enjoy creating a safe and supported learning environment where students can 'trust their growing edge' and connect with self and each other through creative and participatory learning activities.  
4. What are your career highlights so far?
Joining UQ!
Visiting the 'Garden of Dreams' with social work students on international placement in Kathmandu, Nepal.
A job that I love!
Teaching and Learning.
Research that translates into practice to improve social conditions.
UQ T&L Award.
HEA@UQ Senior Fellowship.