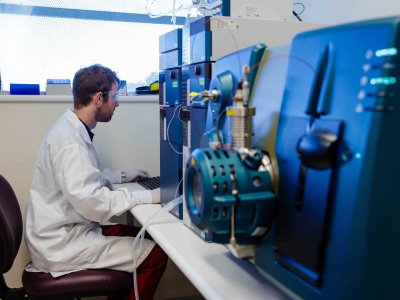 Dr Jake O'Brien is a Research Fellow at the Queensland Alliance for Environmental Health Sciences (QAEHS). His main research area is wastewater-based epidemiology which is the analysis of chemical and biological markers in wastewater to provide insight into chemicals humans have been exposed to/consumed, and to inform on public health.
He works to understand the fate of chemicals both within the sewer network and in wastewater treatment plants, developing analytical methods for chemicals of emerging concern, and characterising plastics within biological and environmental samples.
Current research
Dr O'Brien is working on building a global platform for identifying emerging chemical threats using high resolution mass spectrometry, which is an ARC Discovery grant received by QAEHS colleagues Professor Kevin Thomas and Dr Sarit Kaserzon.
He is a Chief Investigator on the National Wastewater Drug Monitoring Program which was established to capture data on drug use and distribution patterns across a large number of sites in capital cities and regional Australia, which are being used to build a comprehensive and increasingly detailed picture of national drug consumption. This is funded by the Australian Criminal Intelligence Commission and came out of the research the QAEHS team started back in 2009. read more
He is also a Chief Investigator on an ARC Discovery with Dr Guangming Jiang and Associate Professor Lachlan Coin which aims to develop and demonstrate an innovative, real-time and high-resolution genomic tool to monitor and track pathogenic microbiome in sewer networks based on the most advanced and portable third-generation sequencing (TGS) platform (MinION nanopore sequencer) .
Career highlights