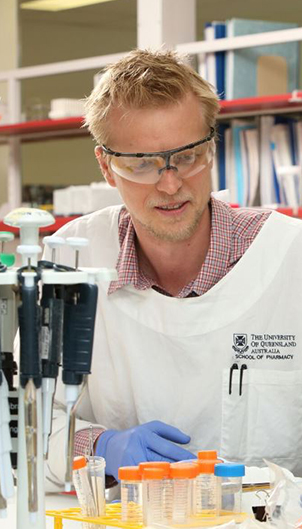 Dr James Falconer is a researcher in the UQ School of Pharmacy. His lab works with supercritical fluids which are unique, tunable solvents. The most common such fluid is carbon dioxide, as it is readily available, cheap, non-flammable, and capable of dissolving many organic molecules. The focus of the work is to re-purpose CO2 for good to prepare nanoparticles and for selective extraction methods.
These super fluids have a rich history in the extraction space, namely decaffeination of tea leaves and denicotination of tobacco, and re-emerging technology in analytical chemistry. Their use in solid-state engineering has gained interest for several decades with extensive research is academia. The hope is to further understand its physical and chemical utility for use across various disciplines such as veterinary science, physics, environmental health, pharmaceutics, and plant science.
In addition to this theme, the team are developing new formulations for challenging clinical problems that may or may not involve using supercritical fluids, oral delivery of new and existing antibiotics, and re-formulation of anti-psychotics.
Current research
There are a number of current projects (names of PhD students and Post-Doctoral researchers in brackets):
Investigation of a functional peptide liposomal system for albendazole prepared by supercritical fluid CO2 (Faheem Maqbool). This is a joint-project with Dr Peter Moyle.
Preparation, optimisation, and characterisation of oral meropenem using CO2 (Aun Raza). This is a collative project with Professor Jason Roberts, Associate Professor Peter Cabot, Dr Fekade Sime, Dr Amir Popat, and Dr Tushar Kumeria.
Development of a supercritical fluid extraction SFE method of a medicinal cannabis for product manufacturing (Sadia Qamar). This is a collaboration with Dr Harry Parekh.
An alternative extraction method (SFE) and evaluation of papaya leaf for chemotherapeutic molecules (Dr Kooi Yeong). This was a joint project with Associate Professor Marie-Odile Parat and Professor Nick Shaw.
Re-formulation of a centrally acting analgesic agent with control release for better pain control using supercritical fluid (SCF) technology (Dr Felicity Han and Dr Tushar Kumeria). This is a joint project between the School of Pharmacy, Australian Institute for Bioengineering and Nanotechnology and the Facility of Medicine/UQ. It is funded through the UQ HABS-Medicine Research Collaboration Seeding Grants Scheme for 2019.
Novel 'nose-to-brain' delivery of a common antipsychotic agent (Madeleine Tan). This project is a collaboration with Dr Harry Parekh and Dr Dan Siskind.
Oral delivery of nanoparticles for novel peptide antibiotics using supercritical carbon dioxide (scCO2) (John Ndayishimiye). This is a collaboration between the School of Pharmacy, including Dr Amir Popat, and Institute for Molecular Bioscience with Dr Mark Blaskovich.