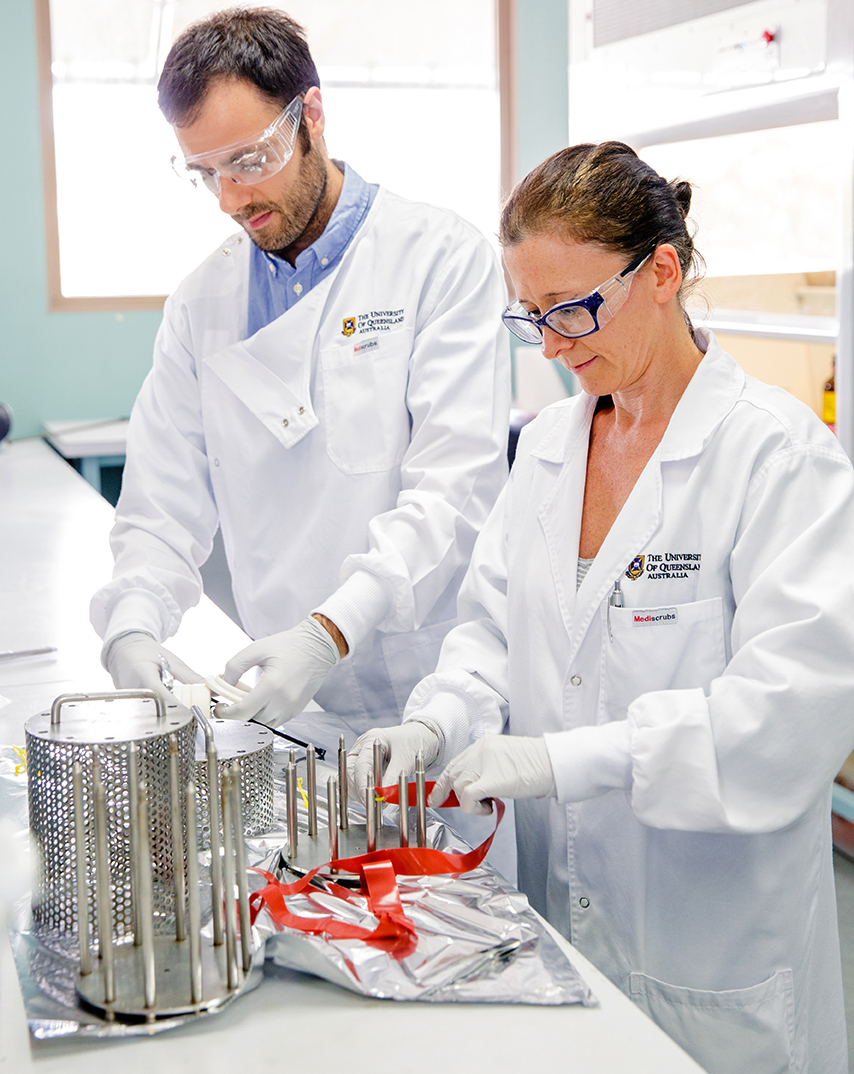 Dr Sarit Kaserzon is a Research Fellow at the Queensland Alliance for Environmental Health Sciences (QAEHS). Her research is related to the monitoring, identification and analysis of chemical pollutants in environmental systems including novel sampling procedures. This includes developing methods for the rapid screening and identification of chemical hazards in drinking and environmental samples.
Current research
Dr Kaserzon's research into monitoring of trace organic pollutants has included pioneering work on the first passive sampling monitoring techniques for perfluorinated chemicals (PFAS). Through this work, the first PFAS sampler has been calibrated for use in waste water treatment plants. This development is an example of a first important step towards a new generation of samplers that can substantially increase the type and complexity of pollutants that can be routinely detected in environmental waters.
She has recently been awarded an ARC Linkage as lead chief investigator to further develop this new passive sampling technology to include a wider range of compounds and couple it with novel modelling approaches to predict sampling uptake rates for new and emerging contaminants. Working closely with industry partners (i.e. Seqwater, Gold Coast Water), Dr Kaserzon has been instrumental in developing rapid sampling and analytical screening techniques that have been applied for the identifications of hazards in drinking water sources. This has allowed the water industry to deliver safe water supplies to the public during events of national significance, such as the G20 Summit. This approach has been published in a high ranking scientific journal and the method has since been further refined using machine learning combined with non-targeted liquid chromatography coupled with high resolution mass spectrometry analysis for delivering a risk warning system of chemical hazards in drinking water. The method was used during the 2018 Commonwealth Games on the Gold Coast to secure drinking water during the event.
Career highlights
Awarded a PhD in Environmental Chemistry from UQ in 2014.
Published ~30 peer-reviewed journal articles; over 90 per cent are in top tier journals in the field.
Consecutive postdoctoral positions at QAEHS since 2015, funded by competitively-awarded research funds she secured and/or managed. 
Secured >$3M in competitively-awarded research funding and contracted government research projects to deliver research outcomes of immediate impact and practical application in government and industry.
Authored 18 major research reports for government agencies, including Great Barrier Reef Marine Park Authority, Seqwater, Department of Environment & Science, and Department of Defence. Many of these outputs directly link to policy, regulation and management of micropollutants including glyphosate and per- and poly-fluoroalkyl substances (PFAS).
Provided training courses to industry partners since 2015 on environmental contaminants and associated sampling and analytical methodologies.
Presented at numerous local and international conferences and workshops including two as session chair and two as a fully-funded invited speaker.
Member, author and contributor to AQUA-GAPS network (first established global network on Aquatic Global Passive Sampling Technologies, implementing deployments around the world with the aim of informing the international POPs convention).
Member of the international NORMAN network of reference laboratories, participating in inter-laboratory comparison studies for emerging pollutants, and co-authoring a report and publication on the results.